Kashmir Cafe Announce 2018 Headliners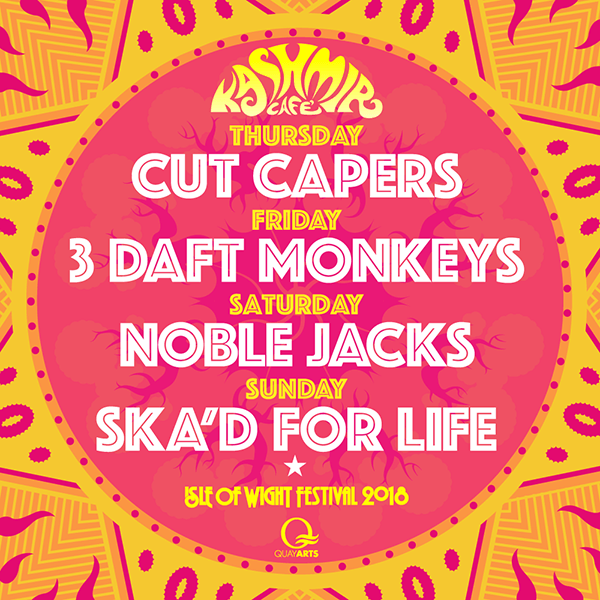 Posted on April 09, 2018
Festival favourite Kashmir Cafe have announced their bill-topping acts for 2018.
Swing/Hip-Hop/Rap maestros CUT CAPERS, legendary festival act 3 DAFT MONKEYS, meteoric folk-stompers NOBLE JACKS, and Isle of Wight Festival party legends SKA'D FOR LIFE headline Thursday to Sunday respectively at the Isle of Wight Festival's charity-supporting Kashmir Cafe.
Run by volunteers, and with all profits going towards to Island's charitable Arts Centre QUAY ARTS, Kashmir Cafe has been a fixture at the Isle of Wight Festival for ten years.
Kashmir Cafe's Stage Curator said, "These four headliners represent everything that's great about Kashmir Cafe. Fantastic acts from the Island and right across the UK, every one of them thrilling and different, but all guaranteeing you a great time. Make sure you come and visit us, grab a pint or two of our local Real Ale or our Cherry Beer and catch some of the best original music around!"
Cut Capers
3 Daft Monkeys
Noble Jacks