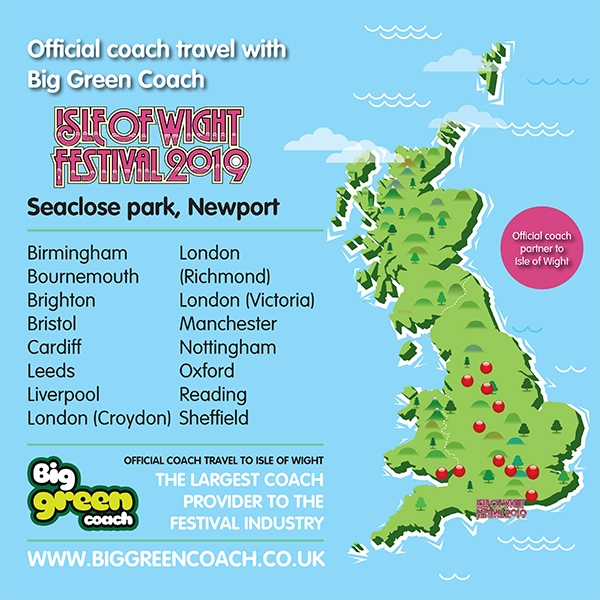 Posted on February 18, 2019
How are you getting to the festival this year? We may have the best festival site in the UK but we understand that it takes some organisation to get to. Book with Big Green Coach and rid yourself of any hassle.
Coach travel may not be the coolest form of transport, but here's a few good reasons to come with Big Green Coach this year.
Why you should come by coach!
By travelling with Big Green Coach your ferry travel and travel to the Island is taken care of! You don't have to worry about booking a ferry or missing your ferry crossing time.
We have 15 pickup points and we'll drop you right inside the festival gates. We can pick you and your mates up from your city centre. To see your closest coach stop take a look here.
No one gets you closer! The OFFICIAL coach park is in a great location, right in the heart of the festival. Forget carrying your stuff to far.
No sitting on top of your mates' tent in the back of their car. Your luggage is stored under the coach meaning you get a whole seat to yourself, and the arm rest if you're lucky!
No shuttle buses or cabs, once you're off that ferry, the coach continues right to site where some lovely Big Green Coach staff will be there to direct you.
You get free glitter! Big Green Coach have a tent inside the festival where you can come in and free eco-friendly glitter all weekend long. We also run daily competitions including a free ticket and travel to next year's festival!
Protect the Amazonian Rainforest! For every customer who books travel with Big Green Coach we sponsor 5 square foot of Amazonian Rainforest for 10 years. They've already protected over a million square foot.
Save the world. 80% of a festivals carbon emission comes from audience travel. If everyone travelled by coach we could cut this down enormously. Travel the green way and help us reduce our overall carbon emissions.
Big Green Coach is providing coach services arriving on the Thursday (with an additional London service on the Friday) in time to find the perfect spot.
All coaches leave Isle of Wight Festival on the Monday from the Official festival coach park. (With you guys looking slightly less glamorous)
Choose your departure point for the Thursday arrival service from 15 locations: Birmingham, Bournemouth, Brighton, Bristol, Cardiff, Leeds, Liverpool, London (Croydon), London (Richmond), London (Victoria Coach Station), Manchester, Nottingham, Oxford, Reading and Sheffield.
Book your coach seat now! We have return travel packages starting from £59 – find your closest stop here.
You won't miss a minute of the action with Big Green Coach - the UK's largest coach travel supplier to the live music industry.
SHARE